Mission
To Lead the Advancement in the 3 "I"
Vision
Collaborating with industry experts and partners to enhance business and envelopment sustainability for the manufacturing sector
Our Journey
2006
Singapore High Technology Association was established.
A few passionate and enthusiastic veteran entrepreneurs came together with the aim to contribute back to the industry.
Singapore Advanced Manufacturing Technology also known as SAMTA was officially registered and approved by ROS.
Meaning of the Logo:
Pictorial background representing the TAC is on focusing driving the advanced and green technology. 5 green squares representing the association moving forward with the 5 key initiatives in sustainability – Energy conservation, Pollution control, 4 Rs (Reduce, Reuse, Recycle, Recover), Renewable energy and social responsibility. All square boxes representing digitalisation.
Meaning of the name SAMTA
Sustainability (S) through the adoption of Artificial Intelligence (A), Metaverse (M), Technology (T) Adoption (A)
Office Bearers
Dedication. Expertise. Passion.
Mr. James Wong is the founder and managing director of O.E. Manufacturing, manufacturer of high pressure precision hydraulic cylinder, since 1982.
He spends much of his time on R&D in product engineering and has successfully built up the brand of hydraulic cylinders internationally. The company won recognition through the Singapore E50 competition as a growing local SME.
In his personal capacity, he provides mentorship for young entrepreneurs in running businesses, works with training institutes to prepare trainees for industrial positions, and advises on business continuity in family businesses.
An industry veteran, he has seen through several business crises (1985, 1997, 2008 and 2020) and has proven his mettle in steering businesses towards safer ground.
Mr. Raymond Wee is a veteran entrepreneur who has founded Salestrade Corporation (S) Pte Ltd in 1994. The company specialises in wireless radio remote control system for industrial applications; wireless data transmission & IOT solutions; wireless positioning & anti-collision systems; cable & hose management system; vacuum technology and end-of-arm tooling solutions for factory automation; switches & sensors for industrial automation.
His company carries many other industrial products from Germany, USA and Korea for various Industries in the South East Asia region.
He is also an active volunteer in the grassroots, trade association and charity organisation for more than 35 years. Since 2015, he was appointed as a volunteer Licensed Solemniser / Deputy Registrar by Registry of Marriages.
In 2021, he was conferred the "National Day Award – PBM" by the President of the Republic of Singapore for his long service and contribution in the community.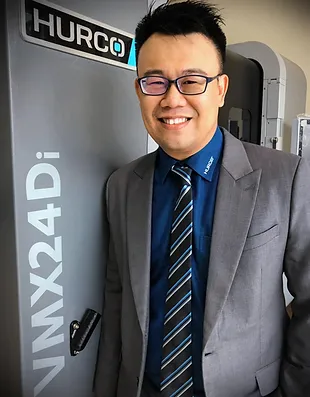 Mr. Lee Wai Yip is the General Manager of Hurco (S.E. Asia) Pte. Ltd. based in Singapore. He is responsible for the overall sales and channel development of Hurco Machine Tools and Control technology in South East Asia, Korea, Taiwan, Australia and New Zealand.
Mr. Lee, a Chartered Accountant (CA Singapore), started his career with Hurco in 2007 as its Asia Pacific Financial Controller leading the establishment of Hurco China and Hurco India entities.
He assumed the role of General Manager in 2011 and has since focused on developing Hurco Sales Channel in SEA, Taiwan and Australia.
Mr. Lee is also a Fellow of the Association of Chartered Certified Accountants (ACCA-UK) since July 2010 and qualified as a Practising Management Consultant under the Singapore Business Advisors and Consultants Council (SBACC) since Apr 2021.
Our Secretariat Team
We strive to exceed your expectations